A local Burbank church decided to reach out and help Christians in Haiti.  So they found a remote area there where there was a Christian pastor and his family who were living among the people and sharing the love and forgiveness that are available in Jesus.

Now Caneille is near the eastern edge of the country and people are extremely poor.  No one has a car, or refrigerator or even running water.  Although electricity has recently reached the area.

So the Burbank church asked its members, "Who would like to go as a team to Haiti for 7 days and help fix a few things?"

Now Alfonso is a musician and plays in a mariachi band. He joined the team and said to Brian, the team pastor, "You know, I play the violin, and I have a violin I want to donate."

Brian didn't want to discourage him, but thought, "Well, I could see you playing the violin at Caneille, but it's such a remote location.  Nobody plays instruments out there.  On the other hand I don't want to discourage you."
 
Then he thought, "You know, I will just ask."  So he sent a very diplomatic email to Betty the church contact in Haiti and said, "Is this practical?"  Meaning, the chances are like zero that anyone would want to play the violin in a village this remote in such a poor country as Haiti.  It just sounds a little nutty.

But Betty emailed back saying, "You're never going to believe this, there is a young man, who is one of Bastia's younger brothers, who we have had several conversations with over the past six months, who is a musician and who has a dream to play the violin.  He told me that he heard one on the TV, fell in love with the sound, and had this desire.  And he had shared the desire with me.  So I had to advise him how very expensive it would be.  Yes, there is probably one somewhere in Haiti, but it would be expensive and very rare.  I wanted him to know that this would not likely happen." 

As a result of this the young man kind of lost hope, wanting to learn the violin but concluding the wish was not realistic.  Still, he couldn't stop thinking about it.  By the way, he plays the drums and the guitar, is 19 years old and is very serious about music.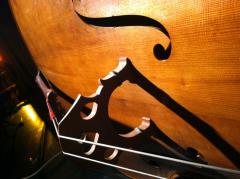 But God touched Alfonso's heart to not only provide a violin but to go to Haiti and to give a couple of lessons over the few days he was there with the mission team.  And by Sunday the young man had this stuff memorized.  The pastor pointed out this guy is off the charts gifted; his dream is to become a Gospel artist.  Perhaps this is what God has planned for him. 

It is important to understand that nobody coordinated this.  In fact Betty had felt from a human perspective that this was so unlikely that at one time she was thinking about sending out a prayer letter asking others to pray for the boy's wish.  But she then felt the Holy Spirit was guiding her not to do that.

In fact, the Holy Spirit had something so much better in mind.  He sent a musician from Burbank, California, Alfonso, who speaks French by the way, to Haiti where there was such a quality student waiting for him in such a remote place.  This effective working of the Holy Spirit, without any human planning, just blows our mind.  God is working way beyond the things we could know or understand.  This just shows how much God loves this man that He did this for him.  

I am Alfonso and these things really happened.
¿Le gustaría hacer que Jesús sea el Señor de su vida?
 - Jesús, Yo creo que eres el Hijo de Dios. Te agradezco por haber muerto en la cruz por mis pecados y haber resucitado.  Por favor, perdona mis pecados y concédeme el regalo de la Vida Eterna.  Te pido entres en mi corazón y en mi vida como mi Señor y mi Salvador.  Por favor ayúdame a crecer en ti ya vivir para ti.  Gracias por haber entrado en mi corazón.
Si este mensaje ha tocado su corazón, favor de darnos a saber su respuesta con las siguientes opciones:
1. Sí, hoy escojo confiar en Jesús: Por favor preciona aquí.
2. Yo ya confío en Jesús y me gustaría engrandecer más en mi Fe: Por favor preciona aquí.
3. Voy a seguir buscando: Por favor preciona aquí.
Testimonios de Damas